POWER.
DURABILITY.
FUN.
Turn your bike into a beast. You've discovered the Bafang powerhouse family of mid-drive motors. Between the Bafang BBS02 and the Bafang BBSHD, you have nearly every fit of bicycle covered (68-120mm). From comfort cruisers to colossal fat bikes, Bafang mid-drive motors will bring a smile to any rider. Tackle any hill or mountain. Heck, you can even climb stairs. For more information on which mid-drive motor is best for you click here.

With Electrify Bike, you've got the ultimate selection of DIY craft components to build your perfect Bafang dream bike.
Why us? We sweeten every purchase by including ​complete kit hardware and custom programming. Plus, we'll assist you throughout your project. We're fanatics when it comes to electric bikes. We think you will be, too.
WE INCLUDE THESE ITEMS STANDARD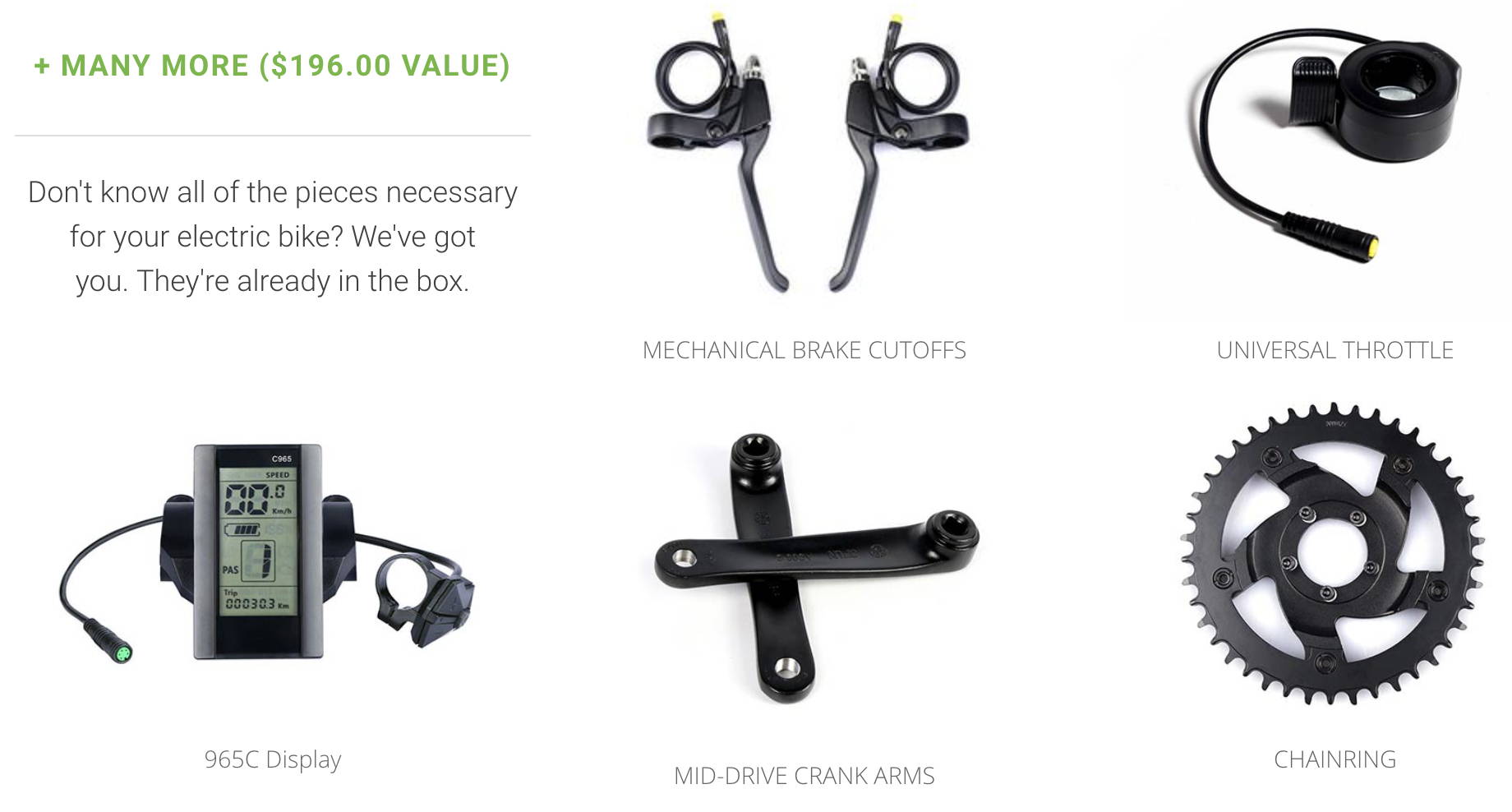 PROGRAMMING


With Electrify Bike, you can customize your motor's programming for street legal or off road. We can help you tune the motor settings for Class 1, 2, and 3. Or you can tweak them yourself with a programming cable or an
Eggrider V2 Display
.
DISPLAYS
Want to be discreet? Check out the

SW102 Display

.
Looking for color and style? Check out the

750C

 or 850C.
Want complete control? The Eggrider V2.



CHAINRINGS
Find the perfect amount of torque for your daily ride with a Lekkie Custom Chainring. They're manufactured specifically for your BBS02 or BBSHD conversion, and the narrow-wide tooth pattern will guarantee a better grip on your chain.
BATTERIES
We are uncompromising in the quality of our battery cases and components.
We use only the best cells from Panasonic, Sanyo, and Samsung.
Need to big Bafang sized power in a small package? Check out our

Mini-Max batteries.


Looking for distance and power? The Super Shark, Jumbo Shark, and

Mega-Shark

are waiting for you.
CHARGERS
Electric bike batteries use the same chemical basis as your cell phone or laptop. The core components are lithium-ion.
Electrify Bike's custom smart chargers
have a rotary switch that allows variable charges of 80%, 90% and 100%. This allows you to charge your battery to a sweet spot of 80-90% that allows us to extend the life of your cells by up to 500%.

​If only we could do the same for your smart phone! :)