CUTTING EDGE.
TORQUE SENSING.
POWER.
Feel 10x more powerful... naturally.
With CYC Motors and their torque sensing capability, you'll pedal the same as before... except you'll go further, faster. It's like riding any other ebike, except delightfully powerful. These motors are also the peak of performance in electric bikes. The motor is separated from the bottom bracket allowing fliexibility in fit to accomodate over 90% of all bike frames. Additionally, unlike other mid-drive motors, the chainring is on the inside of rht gear reduction gears, allowing you to have a perfect chainline without the typical offset you'd find on similar motors. You'll have incredible power, control, and cool factor with a CYC X1 Motor. For more information on which mid-drive motor is best for you click here.
With Electrify Bike, you've got the ultimate selection of DIY craft components to build your perfect CYC X1 Motor dream bike.
Why us? We sweeten every purchase by including ​complete kit hardware and the option for custom programming. Plus, we'll assist you throughout your project. We're fanatics when it comes to electric bikes. We think you will be, too.
WE INCLUDE THESE ITEMS STANDARD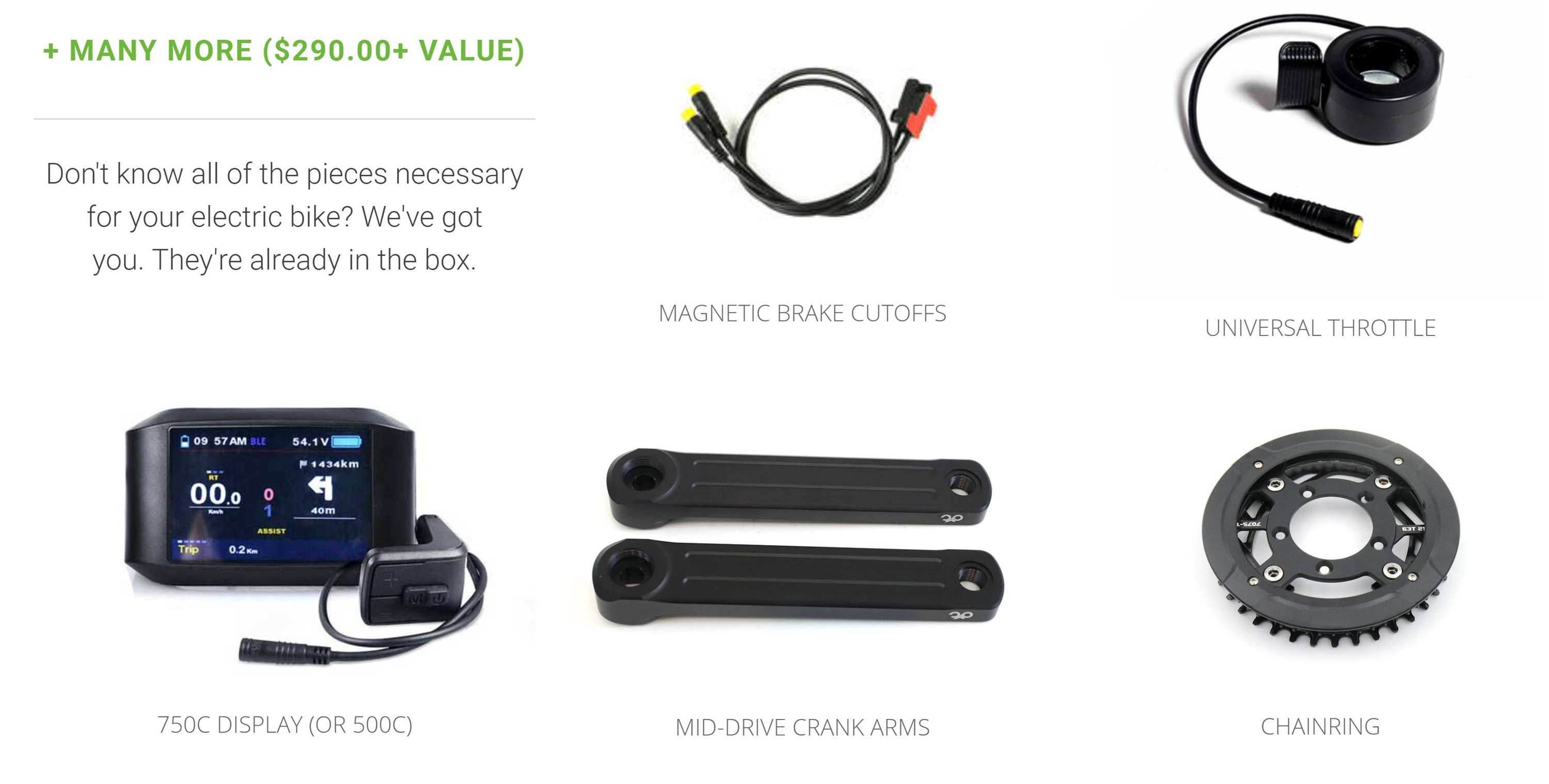 X-SERIES CONTROLLERS
UNLEASH CYC MOTOR POTENTIAL
Instant torque and power, stable off-road performance, responsive throttle, refined pedal assist experience, the X-series controllers are the key components to power all CYC motor systems.
POWERED BY VESC
Using the VESC® platform, it allows us to contribute to innovations in electronic systems. The VESC® Project is an open-source platform. For X-Controller Series use with VESC® Software, please contact our support team.
CONTROLLER RELIABILITY AND PERFORMANCE FEATURING:
High Initial torque

Peak power

Maximum reliability

No cut-out with full power in bumpy terrain

Instant throttle response

Refined torque sensor tuning

Simplified app

Fully programmable via display, so using the app is not mandatory

Plug-and-play
SMARTPHONE APP
Introducing the CYC Ride Control mobile app for iOS and Android, aimed to unleash all the possibilities at your fingertips. Experience an advanced settings selection and an on-the-go mode on the horizon.  
ROTOR CORE & MOTOR
With mechanically retained magnets inside the CYC motors, they are designed to reach high RPMs without failing under heat stress.
 Not only are the magnets mechanically secured, but CYC uses high-grade quality magnets that can withstand up to 180 degrees Celsius. Much more than the motor will reach during your ride, allowing for ease of mind during any conditions.
​The X1 PRO motor is equipped with an SPM rotor to optimize the efficiency and torque with the small form factor. To prevent magnet loosening in the Gen 3 rotor, the magnets are mechanically retained by the sleeve in the rotor.
ISIS SPLINED CRANKSET
Ensuring you have a durable crankset is crucial to any ebike. The new integrated torque sensing module allowed CYC to return to an ISIS-splined crankset so you can rest at ease knowing that no matter how hard you pedal, your crankset will stay secure.
​

WATER RESISTANT
Love a muddy ride? What about rainy days or washing your bike? We've got you covered. The bottom bracket bearings are now fully sealed to ensure maximum reliability with outdoor use.
​All the previous water ingress point has been sealed properly with the upgrades. All the exposed bearings are also sealed, so the systems are now safe to wash and use under heavy rain conditions.
ADVANCED TORQUE SENSING TECHNOLOGY
Patented torque sensor technology offers one of the best pedal assist sensations in the ebike world. Paired with our in-house firmware tuning and a robust sprag clutch, the CYC torque sensor ensures instant engagement and an intuitive pedal assist experience. The Gen 3 ISIS splined standard torque sensing system ensures durability even with extreme riding.
New CYC motors are equipped with the Gen 3 torque sensing technology exclusively developed in-house by our team of engineers and riders. Together they achieved a pedal assist experience for conversion kits as you've never seen before!
NATURAL, SMOOTH RIDING  
Equipped with our patent pending torque sensor module, we can give you a refined pedal assist system. The torque sensor module includes both a high-sensitivity torque sensor strain gauge module and a cadence sensing module. The high number of poles of the cadence sensor ensures that we can control the sensitivity to a much higher degree & provides the opportunity to fine-tune the firmware alongside rider inputs. The result? Unprecedented ebiking!
The ALGORITHM in the CYC torque-sensing firmware IS EVERYTHING.
The CYC PAS firmware algorithm is the secret sauce for an ultimate riding experience. They really did it! CYC engineers stepped up to the challenge and proudly present a world-class pedal assist experience.
SEALED, INTEGRATED, & BUILT TO LAST
The new Gen 3 PAS (pedal assist system) sits integrated with the robust sprag clutch module, so there's no external wiring to get caught, bent, or accidentally snapped. The CYC PAS runs with the torque and cadence signal collected and is processed by the controller to give you a pedal assist feeling like never before.  
TESTED BY PROFESSIONALS
Not only have we written our firmware alongside our team riders, we've made sure that all our MVPs got a chance to test it! Electrify Bike in North America and other partners around the world put it to the test.
NEXT GENERATION ELECTRONICS
The latest X-Controller series is built to give you ultimate freedom. In-house firmware optimizes the throttle and pedal assist experience. Paired with the CYC Ride Control mobile app, you can unleash all the possibilities at your fingertips.
The mobile app is not the only way to customize your system. The controller is also programmable via the included display. Integrated for your convenience.
CYC RIDE CONTROL
Pair the CYC Ride Control mobile app with the X-Controller Series and it gives you the ultimate freedom to ride your way. Via Bluetooth connectivity, we have ensured that your ebike experience is now more integrated than ever.
UNPRECEDENTED PERFORMANCE
The X-Controller Series is designed for you with in-house firmware giving way to optimized pedal assist and throttle experience. This enables us to find the sweet spot between natural riding and pure power to open a world for conversion kits like no other.  
WATERPROOF
The X-Controller Series is *IP66 rated, making sure that you can jump, shred, and wash in any conditions. The cables and connectors are also waterproof, making any time the right time for a ride.
PROGRAMMING


With Electrify Bike, you can customize your motor's programming for street legal or off road. You can tune the motor settings for a legal Class 1, 2, and 3. Then you can set up a mode to unleash from 1500 to 5000 watts of off-road power.
DISPLAYS
Gen 3 adds two new displays from Topology Tech; the small and stealthy SW102 and the color DS103. Amd you still have the choice of two of the tried and proven top APT color displays; the

750C

for up to 72v and the 500C for up to 52v batteries.



CHAINRINGS
CYC Gen 2 and Gen3 Motors use standard BCD104 chainrings so you can pick the chainring that suits your riding style and the cadence you want to maintain. They are also flexible with chainring options for motor gear reduction, allowing you to choose different ratios for your specific needs.
BATTERIES
We are uncompromising in the quality of our battery cases and components.
We use only the best cells from Panasonic, Sanyo, and Samsung.
Need to keep it discreet? Check out our

Mini-Max batteries.


Looking for distance and power? The
Super Shark
,
Jumbo Shark
,

and

Mega Shark

are waiting for you.
CHARGERS
Electric bike batteries use the same chemical basis as your cell phone or laptop. The core components are lithium-ion.
Electrify Bike's custom smart chargers
have a rotary switch that allows variable charges of 80%, 90% and 100%. This allows you to charge your battery to a sweet spot of 80-90% that allows us to extend the life of your cells by up to 500%.