CYC X1 Stealth Gen 3 Documentation:
SUPREME ALL TERRAIN EBIKING
Dream big with the X1 Stealth Gen 3. Designed for all terrains, leave no trail uncrossed with advanced torque sensing, instant throttle capabilities, and customized tuning. Made for a powerful yet natural riding experience.
RATED POWER: 1500W

PEAK TORQUE: 150N.m.

COMPATIBLE: 36V to 52V

CHAINRING OPTIONS: 32T & 38T (30-46T with BCD104)

BOTTOM BRACKET OPTIONS: 68-120MM

BB92 SUPPORTED
The X1 Stealth is the all new lightweight mid drive conversion system. With up to 1500W of power output, a small form factor, and quiet performance, this is the ideal system for riders wanting a stealthy setup.
The X1 Stealth is complete with:
torque sensing capabilities
fully customizable mobile app
Range of bottom bracket sizes
High clearance
Fits all frame types including carbon
2 rider modes (e.g., street, off-road)
9 assist levels​
​GENERAL​
Rated Voltage
Max. RPM (at Crank)
Max. Rated Power
Max. Torque (at Crank)
Overall efficiency
Color
Weight (Motor & controller)
Total wgt. w/crankset & BB
Bracket Materials
Crank Arm Length
Q Factor
Control Method
Motor Sensor
Chainring​

INCLUSIONS​
Controller
Display
Throttle
Speed sensor
Wiring
Bottom Bracket
​

​​
PAS sensor
Brake sensor

COMPATIBILITY​
BSA Threaded Frames
​
Pressfit Frames

MOTOR​
Motor type
No-load Motor kV
Stator lamination
Magnet
Efficiency (at 2N.m.)
Rated RPM (at 2 N.m.)
Epoxy sealed​

GEARBOX​
First stage reduction
ratio
Second stage
Overall reduction ratio
from motor to crank

​36-72 DCV (nominal) (10-20s Batteries)​
>260 RPM
2000W
150 N.m.
≥ 93%
Anodized Black
2.7kg
4.5kg
7075-T6
165mm or 175mm
190mm (208mm for fat bikes)
FOC
Hall & temperature sensor
11/53 option with 32T bike chainring
11/63 option with 38T bike chainring
​​
X6
​500c, 750c, DS102 / SW103 Display (up to 52V)
Right thumb, left thumb, Universal thumb, half-twist, or full throttle
Magnetic sensor
Waterproof wire (Julet connector)
BSA threaded or pressfit option with additional spacers:
3, 5, & 7mm spacers for BSA threaded
2x 2mm spacers for pressfit
Integrated torque & cadence sensor
Magnetic sensor for all brakes (optional)


34.5mm bottom bracket diameter
​68mm, 73mm, & 83mm width
41 bottom bracket diameter
92mm width

​BLDC Out-runner
​150
0.2mm
N45UH (>180 °C)
>93%
>9000 RPM
Black epoxy potted stator

​
1:6 low noise brass planetary gear
Hardened steel sun & ring gear
​219H Chain
1:28.9 (11/53T)
1:34.4 (11/63T)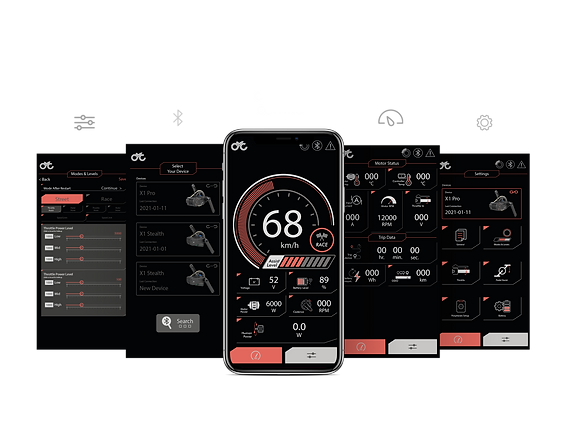 CYC RIDE CONTROL APP for X-Series Controllers
The CYC RIDE CONTROL app is the X1 PRO and the X1 Stealth's configuration system. This is where you will customize your experience & monitor your performance.
The app is connected to your controller via Bluetooth & will allow you to set up your system & change parameters according to your preference.
The CYC RIDE CONTROL app allows you to do multiple things:
Set up your desired power output's for 2 different modes

Customize your parameters for pedal assist, throttle performance, & gear preferences

Configure your torque sensor

Monitor your performance

Set up your e-bike battery & peripherals

See warnings & clear errors
This app is needed to set up a few things to get started such as your regions legal limits, your battery voltage, & wheel diameter. You will also need the app to clear any warnings or errors that may occur.
Complete instructions can be found here:
SHIPS from USA!!
CYC X1 Stealth Gen3
The CYC X1 Stealth Gen 3 mid-drive motor is a high-end/high-performance ebike conversion system that is the creation of CYC Motors in Hong Kong. These guys know what they are doing. They created this bad boy as the stealthy baby brother of the X1 Pro, but it is still one of the most powerful motors available.
This motor preserves a perfect chain line on any bike and tucks up high off the ground, even on modern mountain bikes with a curved downtube. With its torque sensing and cadence sensing bottom bracket, it delivers power at the cadence you choose and senses when you crank up your effort and delivers more power on demand.
This motor is versatile, fitting 95% of frame types, including carbon frames. It can be set up as a class 1, class 2, or class 3 ebike from 350 to 750 watts. Off-road modes go from 750-2,000 watts (depending on battery).
It comes with everything you need except the battery, and we have those in 52v and 72v at 50 amps and from 300-watt hours to over 1000-watt-hours.
Included:
Motor-reduction assembly

219H chainring-reduction assembly

Bicycle chainring with chainring cover

219H golden KMC chain

ISIS splined bottom bracket & spindle

165mm/ 175mm crank arm set

Gen 3 torque sensing freewheel module

CYC X6 controller

Built-in bashguard

Waterproof wire harness

Motor hanger

3, 5, & 7mm spacers for BSA threaded 68/73/83mm version / 2x 2mm spacers for BB92 version

DS102 / SW103 Display (up to 52V only)

Thumb throttle/ Half-twist throttle/ Full twist throttle

Magnetic speed sensor

User manual
For lights powered from the main battery, you may want to consider the CYC or EBC high-power light sets. They both have a handlebar mounted switch to turn the headlight on and off. The CYC headlights have two separate lights that each mount directly on the handlebars. The EBC Headlight includes low-beam with horizon cutoff, high-beam, and running lights and mounts on the front stem bolts freeing up handlebar space and not interfering with the ebike display. Both lights are brighter than most car headlights.
For a great 1x drivetrain, the ebike-rated Box Two and Box Three drivetrains are durable and affordable. With all the power this motor can deliver, you will still wear out the higher (smaller) gears on the rear sprocket. Fortunately, Electrify Bike Co. has arranged with Box to sell these as a set of 4 sprockets for just $20, so you can just change them out when they start to slip.
NOTE: Electrify Bike Co. does the final assembly of CYC motor kits in the USA and we ship to all locations in North America. We do not ship to China and Hong Kong.
Due to high demand, there is a backlog for this motor. Orders are shipping on a first-come, first-served basis. Delivery time for new orders is about 1-2 weeks. CC charged to hold your place. Orders refunded immediately if you choose to opt out.
Written by
an anonymous user
on
Customer Reviews
based on reviews
There are no customer reviews yet.
Thank you for submitting your review. Once it is approved, your review will show up in the list of reviews.
Submitting your review failed. Please try again.