---
---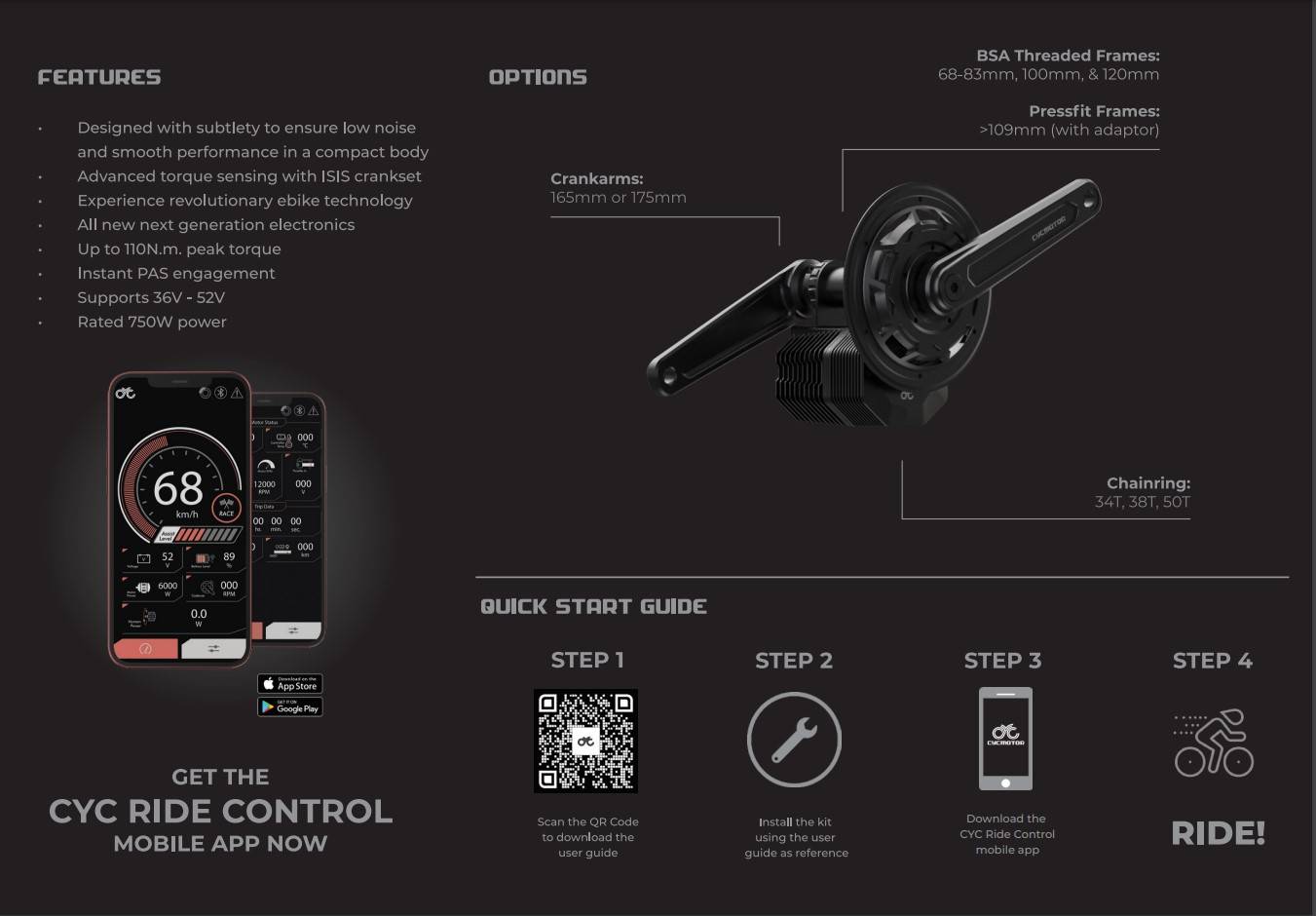 Introductory price $100 discount
CYC Photon
The CYC Photon mid-drive motor is a high-end/high-performance ebike conversion system that is the creation of CYC Motors in Hong Kong. The CYC Photon represents cutting-edge, state-of-the-art DIY mid-drive motors. The Photon sets the bar higher than it has ever been for DIY and factory mid-drive motors. It has a finely tuned response to meet the demands of the most discriminating cyclist or MTBer. On top of that, it sets a new precedent for power and quietness in a lightweight motor kit.
This motor preserves a perfect chain line on any bike and great ground clearance With its torque sensing and cadence sensing bottom bracket, it delivers power at the cadence you choose and senses when you crank up your effort and delivers more power on demand.
This versatile motor fits most frame types, including fat bikes and some carbon frames. It can be set up as a class 1, class 2, or class 3 ebike from 250 to 750 watts. Off-road modes go from 750 to over 1,000 watts.
It comes with everything you need except the battery, and we have those in 52v and 72v at 50 amps and from 300-watt hours to over 1000-watt-hours.
Included:
Complete Motor, controller, & gear reduction assembly

Bicycle chainring (34T, 38T, or 50T) with chainguard

ISIS splined bottom bracket & spindle

165mm or 175mm crank arm set

Gen 3 torque sensing freewheel module

CYC X6 controller

Waterproof wire cables

Spacers for BB adaptability

DS103 / SW102 Display (up to 52V only)

Thumb throttle or optional choice

Magnetic speed sensor

User manual
Documentation:
For lights powered from the main battery, you may want to consider the CYC or EBC high-power light sets. They both have a handlebar mounted switch to turn the headlight on and off. The CYC headlights have two separate lights that each mount directly on the handlebars. The EBC Headlight includes low-beam with horizon cutoff, high-beam, and running lights and mounts on the front stem bolts freeing up handlebar space and not interfering with the ebike display. Both lights are brighter than most car headlights.
For a great 1x drivetrain, the ebike-rated Box Two and Box Three drivetrains are durable and affordable. Under motor power, you may still wear out the higher (smaller) gears on the rear sprocket. Fortunately, Electrify Bike Co. has arranged with Box to sell these as a set of 4 sprockets for just $20, so you can change them out when they start to slip.
NOTE: Electrify Bike Co. does the final assembly of CYC motor kits in the USA and we ship to all locations in North America. We do not ship to other countries including China and Hong Kong.
* CYC does not make a BB92 Version of the Photon motor. When you order the BB92 Version, you get the 100mm Version with 41mm adapters and spacers.
Due to high demand, there is a massive backlog for this motor. Orders are shipping on a first-come, first-served basis. Delivery time for new orders can be up to 4-6 weeks. CC charged to hold your place. Orders refunded immediately if you choose to opt out.
---
---
---
Written by
an anonymous user
on
Customer Reviews
based on reviews
There are no customer reviews yet.
Thank you for submitting your review. Once it is approved, your review will show up in the list of reviews.
Submitting your review failed. Please try again.
---